Port-Cros National Park
Image
"Discovering nature makes you love it and when you love it, you want to protect it!"
He is a child of the garrigues who was born in the northern districts of Marseille, "which gave me, " he says, " a multicultural openness. But at the age of 6, Philippe Chabot and his parents, civil servants from the PTT, moved to the top of a hill overlooking Marseille.
I spent my childhood roaming around up there, building huts, talking with the grandfathers, the old pegemakers who collected resin and knew the birds. As a child, I had this understanding of the relationship between nature and humans.
As a young man, Philippe did a lot of sports: cycling, mountain biking, hiking... " I think it was a challenge for me to be able to do something that I could do I think it was an outlet to vent the loss of my father when I was 10 years old". He was told "Be brave" so he went for it: he passed a BTS in sales, then joined a business school.
But I was always into sports. And at 15/16 years old, I was exploring the Calanques like an explorer, zone by zone, with my map. Then I bought books on the myths and legends of the Calanques. It was my grail, a mystical quest for all that there was to discover: the buried treasures, the secrets... Then this passion evolved towards the wild life, the fauna, the flora... We have a paradise at the doors of our cities, in Marseille as in Hyères with the islands! I used to go to Porquerolles when I was a kid and it was like going to the Bahamas.
In 1995, Philippe joined Orange with the mission of launching the cell phone in mass distribution. "I found myself in a tower in Lyon with 20 departments and 10,000 points of sale to manage. After five years, my life became a nightmare. I was about to turn 30, I saw myself with my suit, my tie, my car, my eczema... I had everything and I was very sad. With some percussionist friends, he went to Benin in search of several tribes to collect the traces of their rhythmic culture. And it is the shock: "They had nothing and smiled at life. You think you're on a journey and it's the journey that makes you. When I came back, I understood that the choices that had led me there were not my own.
Philippe regained his freedom in 2005, and after a training in sophrology, passed the diploma of mountain leader. In 2007, he created his company: Horizon randonnée and offers themed tours in all the major natural sites of Provence with the idea of " discovering the specificities of each place and opening up the eyes. Discovering allows you to love and when you love, you want to protect".
With seven other guides, he then created Provence Évasion, in order to market stays. The Esprit Parc National brand distinguishes his new trip, which offers a 5-day itinerant discovery tour, by hiking and kayaking, from the Giens peninsula to the Three Capes* via Porquerolles.
The idea is to use outdoor activities to immerse oneself in the biodiversity of the area and to work with professionals committed to an eco-responsible approach (hotels and restaurants). I am very happy to become an ambassador of the Port-Cros National Park and to meet partners who have the same philosophy and sense of humanity as me.
* Caps Lardier, Taillat and Camarat.
Image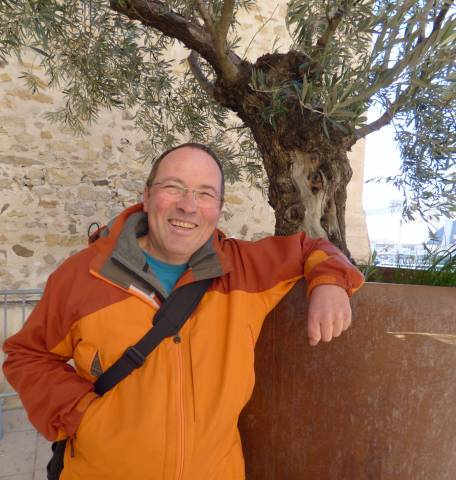 Crédits
© DR Parc national de Port-Cros