Réunion Island National Park
Image
"Our bees sustain an exceptional environment"
Beekeepers in the east of Reunion Island, Christophe and Mélissa Dalleau are real enthusiasts. Itis at the doors of the National Park of La Reunion, in La Caroline, Bras-Panon, that this couple produces honey directly from the Bois de Couleur forest which surrounds them.
Our honey has many properties from the endemic trees and medicinal plants of the forest. Without our bees, the forest we have today would not exist. They are essential.

Today we are farmers* and beekeepers by passion and commitment...at the beginning I was a professional soccer player and a stroke on a field turned my whole life upside down. In order to rebuild my life I had to dig deep inside myself...what I needed, what I wanted and how to do it.

And everything I needed in my second life to share, to transmit, to rebuild myself...I found it in the Bois de Couleur forest.
*Christophe and Mélissa Dalleau are also producers of vanilla and cocoa in agroforestry.
Image
Légende
Portrait de Christophe Dalleau
Crédits
Portrait de Christophe Dalleau
Image
Légende
Miel de forêt de Terre Api des Hauts
Crédits
© DR Parc national de La Réunion
Image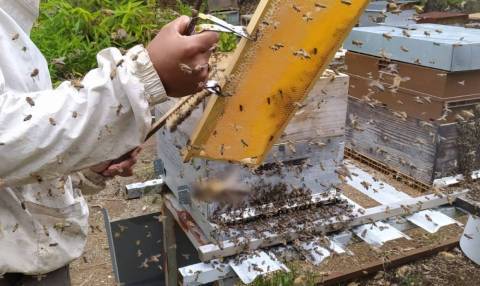 Légende
Travail au rucher Terre Api des Hauts
Crédits
© DR Parc national de La Réunion
Image
Légende
Portrait de Christophe et Mélissa Dalleau
Crédits
© DR Parc national de La Réunion